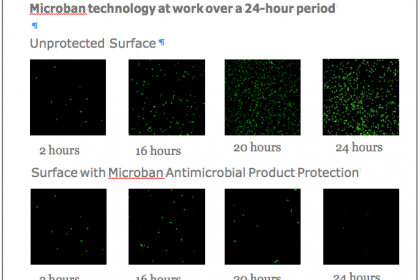 When microbes come into contact with unprotected plastics, there is the potential for stains, odors, and even product degradation. To protect your plastic parts against bacteria, mold or mildew, PMC Polymer Products™ has partnered with Microban® to offer versatile, customized antimicrobial additive solutions.
Microbes don't stand a chance when Microban technology is infused into compounds from PMC Polymer Products.  Microban protection penetrates microbes on a cellular level upon contact, disrupting cellular functions to keep microbes from growing or reproducing as seen in the picture below.
We understand the importance of microbial protection against bacteria, mold and mildew. And we understand the importance of working with industry-leading companies you can trust, like PMC Polymer Products and Microban.
If you would like more information about microbes and polymers, or about our partnership with Microban, click here to email me, or give me a call at 610-746-1635.