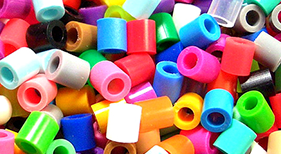 One of the things I enjoy about being somewhat new to a company is getting to see for the first time what our customers see. That moment when you realize just how impressive your operation really is… it's a great experience.
And PMC Polymer Products's manufacturing capabilities are nothing short of impressive.
Our top-tier scientists, highly trained technicians and state-of-the-art equipment combine to provide industrial manufacturing capabilities unmatched in the industry.
We develop custom plastics for our customers using polyolefins, styrenics, polyamides and polyester (PBT). For compounding, our Farrel Continuous Mixers facilitate powder loading levels up to 90 percent. And we utilize co-rotating Twin Screw technology as well.
We have invested hundreds of thousands of dollars to ensure that our plant can handle most raw materials from most any package – whether it comes in bags or in railcars. Every line is equipped with state-of-the-art K-tron feeders and dust-free material transfer systems that minimize the operator's exposure to powders. We deploy various blenders for pellets and powders, and we have a number of styles of pumps for liquid injection.
We offer numerous strand pelletizers, and we have both Gala and Xaloy underwater pelletizers.
Our 2CM Pilot Line was completely overhauled earlier this year. It is capable of both strand-cut and underwater pelletizing, and it has liquid injection capability as well. This line is great for scale-ups to larger lines.
We can deliver final product using packaging that meets each customer's unique specifications. Packaging options include:
Valve Bags
Drums
Gaylord Boxes (various geometries)
Sling Bags
Bulk Trucks
Railcars