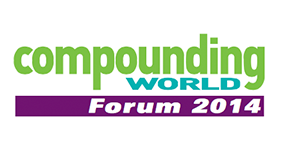 We are looking forward to participating once again in the Compounding World Forum. This year's second annual event will be held at the Loews Philadelphia Hotel December 9 and 10.
Organized by Applied Market Information (AMI) and Compounding World magazine, last year's inaugural Compounding World Forum brought more than 230 attendees from 140 different companies from across the industry into one room.
The primary focus of this year's event will be the production of technical compounds based on engineering thermoplastics, performance polyolefins and thermoplastic elastomers. Because PMC Polymer Products is an industry leader in specialty compounding and custom masterbatch innovation with decades of experience in the industry, our experts are often sought out for their input in these valuable industry discussions.
Additional topics planned for this forum include:
building a global compounding business
advanced materials development via smart compounding
processing opportunities for bioplastic compounds
specialty compounds for 3D printing
the influence of glass fiber in various polyamides
carbon fiber in thermoplastic compounds
thermally conductive plastics
designing a compounding extrusion system
effective vacuum degassing on twin-screw extruder systems
Hope to see you in December!