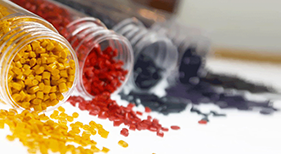 Welcome to the all-new PolymerMasterbatches.com – an important new service from PMC Polymer Products. We created this site in order to provide you with exactly the information you want regarding your project's unique requirements.
As we point out on our About Us page, our passion at PMC Polymer Products is innovation – and our goal is to provide innovative solutions for our customers. PolymerMasterbatches.com is just one of those innovative solutions.
This site focuses exclusively on our industry-leading masterbatch technology – specifically our expertise in producing off-the-shelf as well as custom formulations for your anti-static and flame-retardant needs.
When you read about a specific product you are interested in, simply click the link and that product's information will be emailed to you instantly. Likewise, if you need help developing a custom formulation, it starts with our Ask The Expert page, where you can let us know – in your own words – just what you need.
PolymerMasterbatches.com is more than a great customer service tool. Our goal with this blog is to provide you with an insider's view of the polymer industry. By knowing more about what's going on in polymers, you can be that much more informed when deciding what's best for your project.
If you have any questions, just remember: that's why we're here! Just email us, or use the handy form at the bottom of every page.