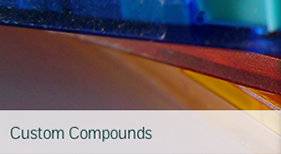 To further our commitment to high value customer service, we've just launched an innovative new website – specialtycompounds.com – that pinpoints key information about PMC Polymer Products' compounding and custom formulation capabilities.
We wanted to simplify, to directly connect our customers with the information they need, right at their fingertips. So specialtycompounds.com focuses specifically on our  experience and expertise in custom compounding – with a special emphasis on custom development, ignition resistant high impact polystyrenes and polyolefins.
Similar to polymermasterbatches.com, specialtycompounds.com allows us to significantly enhance our customer relationships. Now, we can provide customers with instant access to product information, and reach customers with immediate answers to questions.
For more than 20 years, PMC Polymer Products has been developing state-of-the-art polymer and thermoplastics technologies.
As part of PMC Group, our dedication to quality begins with technology and extends through cutting-edge production processes through customer service. With product development laboratories capable of extensive product characterization, end-use testing, long term aging and simulation of customers' processes, PMC Polymer Products is able to work directly with customers to develop new products that best meet customers' needs.