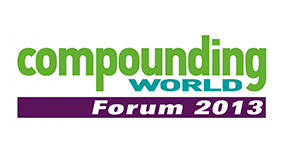 The first-ever Compounding World Forum kicks off next week at the Hilton Philadelphia City Avenue. Will you be joining us there?
PMC Polymer Products has decades of experience in custom compounding and masterbatch formulation, making this new forum an ideal platform for us to share our expertise with others in the industry.
The conference is hosted by Compounding World Magazine, and should be an excellent forum for discussion. We are especially interested in programs on the production of technical compounds based on engineering thermoplastics, thermoplastic elastomers and performance polyolefins – we are often sought out for our expertise in these areas.
Other topics planned for this forum include:
– clean compounding for medical applications
– metal replacement-finding new applications for technical compounds
– anticipating and responding to changing regulations
– developments in anti-microbials for thermoplastics
– pushing the limits of polypropylene performance
– developments in flame retardants for engineering plastics
– natural fibers for high-performance applications
– thermally and electrically conductive compounds
– adding functionality to medical compounds
– optimizing extruder configurations
If you can't be in Philadelphia next week, check back here after Dec. 12 for photos!